Wheatacre Hall Farm Pantry is open daily 8am – 6 pm, 7 days a week.
Wheatacre Farm Pantry is situated on our farm at Wheatacre Hall close to our holiday accommodation in the village of Wheatacre in the Waveney Valley, just 5 miles from Beccles
We stock dairy produce from our own cows which you can see grazing in the Summer on your approach to the Farm Shop, eggs from our own free range hens. Local cheeses including the famous Baron Bigod produced by a neighbouring dairy farmer. Fresh bakery daily from Penny Bun with lots of specials on a Saturday. We have locally produced butchery which ensures very few food miles. Fresh fruit and vegetables again delivered daily from Easters at Norwich which ensures freshness at all times, lots of seasonal items.
We have fresh flowers and plants along with accessories to brighten your home or as a special treat for a loved one. Locally made wreaths for Christmas or to decorate your home.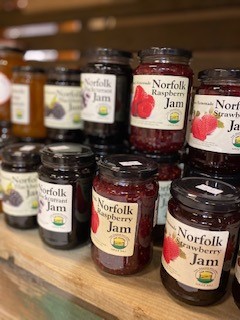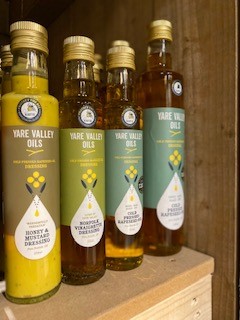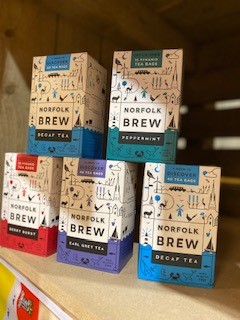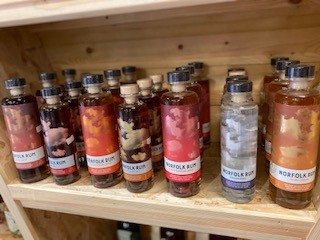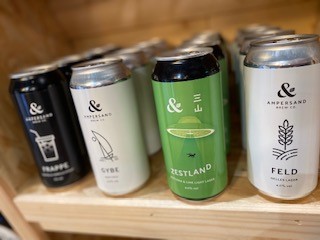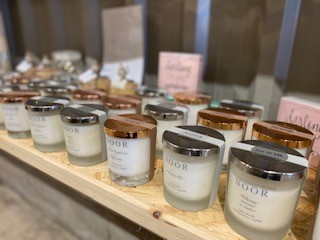 Coffee and Teas are available to perhaps enjoy with a delicious cake from Katherine Kitchen or Carolyn's Cakes, browse the shop and then take a seat at our outdoor tables in the warmer months or our temporary indoor table for the cooler months.
For those nights when you would rather not have to cook a meal we have many take away options and meal ideas from Farmyard, By Ruby, The Pink Tiffin and fabulous frozen pizzas from Brick. A huge frozen food self-service area from Field-Fayre which allow you to purchase as much or little as you require even just a handful of chips!
Enjoy an ice-cream or take home a larger tub from Alburgh Ice Cream, Suffolk Meadow or H & J all use the milk from our cows on the farm.
Delicious chocolate treats for the chocolate lover always a winner from H & J at Beccles, Gnaw, fudge from Yum Yum Tree and homemade from Alisa.
To go with your cheese choice and meals we have a fantastic large selection of condiments, pickles and sauces from Stokes, Scarlett & Mustard to name but a few. Oils from Yare Valley and HIll Farm Oils.
Locally made Jams and Marmalades to get your taste buds going from so many suppliers both local and further afield.
A good selection of Gluten Free, Vegan and Vegetarian produce to suit all dietary needs.
We stock locally produced Wine & Fizz from Chet Valley and Winbirri and a greats selection of locally brewed beer from Ampersand, Humpty Dumpty, Tindall Ales, Green Jack and our local village brewery. Flavoured Gins from Home Farm, Suffolk Distillery and Rum from Norfolk Spirit Co. Local cider and Apple Juice.
We can also help to solve your gift needs whether it be for Birthdays, Anniversaries, Christmas or for just a reminder from your time spent in the great counties of Norfolk and Suffolk - beautiful items from Sophie Allport, wonderful aromas from Noor candles including diffusers and room sprays, home ideas from Resin Shed and we have a section for our local craft people to showcase their wares.
We also have great gift, food and accessories for your most loyal of friends your pets......They must always be remembered whilst shopping!!
Please come and visit us have a Coffee, Browse and Chat we all waiting to meet you at the Pantry!